EDIT MAIN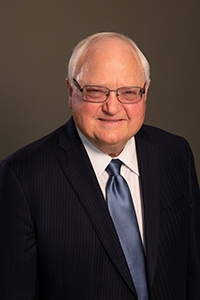 Dr. Jim Rollins
In his 39th year as Superintendent and 41st year as an administrator in the Springdale Public School District, Dr. Jim Rollins is recognized locally, regionally, statewide and nationally as one of the top educators of his era. He is Arkansas' representative on the United States Department of Education's Superintendents Task Force, which meets annually in Washington, D.C.
Since his arrival in 1980, the Springdale district has grown from 5,000 students to over 23,000. It has become the largest school district in Arkansas by growing more rapidly than any district in the state. Despite its size, Springdale is well known for personalized instruction, a result of Dr. Rollins' motto, "We Teach Them All."
Dr. Rollins has overseen a dramatic change in demographics that has led to Springdale becoming one of the most diverse districts in Arkansas. He has introduced innovative programs that allow every student to thrive whether he or she "comes from across the street or across the ocean."
He also has directed the construction of 22 schools since his arrival to meet the needs of Springdale's incredible growth. The district currently has four high schools, four junior highs, four middle schools and 18 elementary schools.
His honors are too numerous to mention but twice he has been named Arkansas Superintendent of the Year, he is on the EAST board and he has been a driving force in the growth of Economics Arkansas.
Dr. Rollins also is known for attracting and retaining extraordinarily talented administrators and teachers who have helped make Springdale known throughout Arkansas and the nation as a leader in meeting the needs of emerging student populations.
---
Message from Dr. Rollins:
The Springdale School District has one overarching goal — to help each of our students achieve to their highest personal potential. In Springdale we believe in our children, in their potential and their promise. We believe that each child is special, and we pledge to "teach them all."
As educators, our efforts are based on four areas of focus: student achievement, safety, diversity, and partnerships. Our instructional program is innovative, creative, and progressive so that we can best serve the different learning strengths and learning styles of our students. We are ever mindful that we are preparing our young men and women to live and work in an increasingly complex and challenging global society. When they leave our schools, they must be prepared to take their rightful places in our community and in the larger world. Blessed with the partnership of a strongly supportive community, we are doing just that. We have parents who are interested and engaged in their children's education, many of whom volunteer their talents and services, and we have a multitude of meaningful partnerships with civic organizations, members of the business community, and supportive patrons and benefactors. In Springdale, it truly is "all about the children," and together we are helping our young people achieve and succeed!
Sincerely,
Jim D. Rollins, Ed.D.
Superintendent